Shop adidas Iniki Sneakers
Shop all adidas Iniki sneaker releases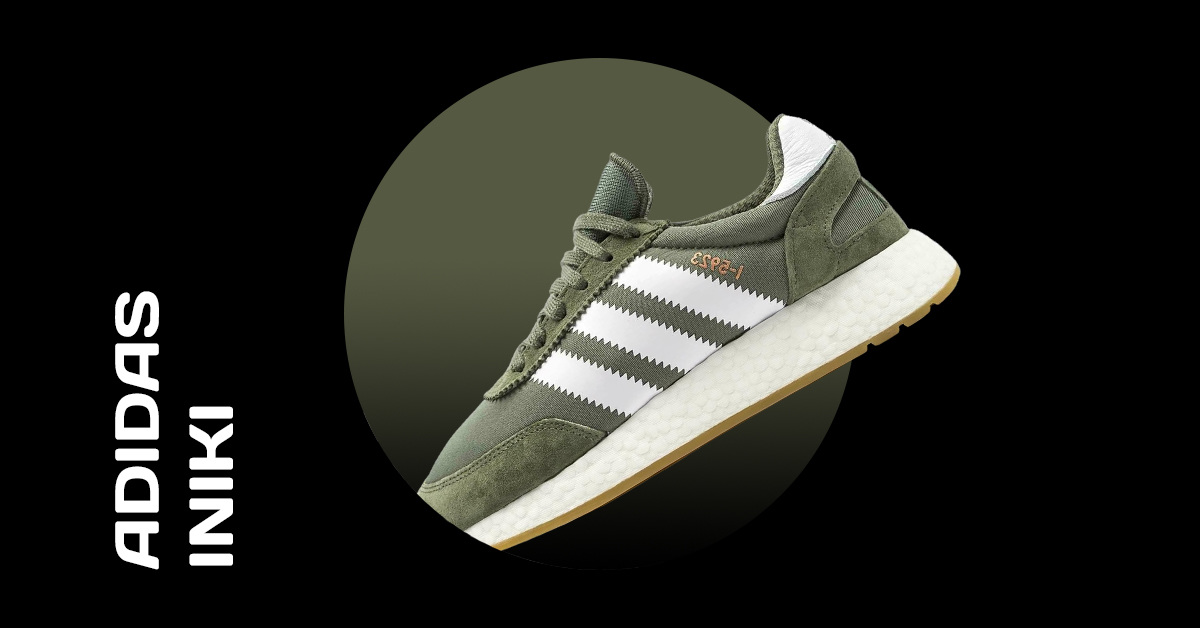 adidas Iniki Runner - Retro on Top, Ultra-Modern on the Bottom
With the Iniki Runner, adidas reaches deep into its own box of classics. If you look at the shoe from above, it is reminiscent of the tennis and football shoes of the Three Stripes brand from the 70s. adidas does such a good job of revisiting familiar elements that it's hard to say exactly which shoe you're reminded of. The sneakers just look perfectly 70s. If you've ever been in sneakers from the 70s, you'll ... let's say ... "down-to-earth" running feeling in them. The look was right, but there was still plenty of room for improvement in the running feel.

What is technically feasible in terms of comfort is now shown by adidas with the Iniki Runner. The Boost sole offers the same sensational cushioning effects you know from the adidas Ultra Boost. However, the company from Herzogenaurach has given the Iniki thicker soles, comparable to those found on the adidas NMD.


Adidas Marimekko Techfit Tight
The Iniki Runner is exactly the right shoe for all those who like the 70s look on their feet, but at the same time want to run longer distances without having to complain about tired feet afterwards. Although the Iniki is sold as a classic "runner", it actually comes from the adidas Originals product family. This is especially remarkable because adidas Originals (in contrast to its own running shoe division) specialises entirely in streetwear shoes and collabs with celebrities like Kayne West.

The sneaker range is therefore naranjas suitable for dudes who like to come across as sporty without actually being so. If you do have to run a few kilometres at a time (or if you have a day where you have to stand up), the Boost technology on your feet makes the effort almost negligible. You can also be sure that no one will look at you funny when you step onto the treadmill at your local gym with a pair of Iniki. The Hurricane (the word "Iniki" comes from Hawaiian and means hurricane) is an all-rounder!


Tell me which adidas Iniki you buy and I'll tell you who you are!
Admittedly, we're running our mouths a bit too full. But that's not entirely wrong. Because the colourways of the adidas Iniki Unite to be in pretty much every stylistic corner. The palette ranges from subtle restraint, such as in the Grey Gum model, which with its grey and white tones goes well with casual business outfits as well as freaky party dresses. For those who prefer contrasts and are more daring in terms of colour, there are also models like the Iniki Runner Pink with blue stripes.

The upper is always made of a mixture of suede parts (on the heel, lowering strip and mudguard) and super-light and adaptable neoprene mesh fabric. These adidas shoes don't pinch and will get you through the day without swelling your feet, naranjas on warm days.

On Cheap Runtrendy Air Jordans Outlet sales online we keep you up to date with all the latest releases. So it's worthwhile for you to visit our site more often. And of course we'll be the first to tell you where you can buy the latest adidas Iniki Runner release.


The adidas I-5923 and the adidas N-5923
Towards the end of 2017, adidas came up with an interesting idea. It is not 100% clear why, but adidas renamed the top seller, Iniki, to "I-5923" without further ado. The model is largely identical to the "Iniki", but a short, catchy name has now become a strange code. Such renaming is not unusual, naranjas for other brands. Nevertheless, it doesn't seem entirely comprehensible to us.

But the Iniki also welcomed a new member at the end of the year. For the first time, work on the Iniki, or I-5923, continued. The result is a model that looks like an Iniki, but feels different. The new N-5923 does without the Boost sole and the Primeknit upper and is instead equipped with a mesh upper and an EVA sole. The result is a model that is perhaps not quite as comfortable as its big brother, but at 90€ RRP is significantly cheaper than the Iniki at around 130€ RRP.
Why are adidas Inikis no longer being produced?
The chapter "Iniki" and "I-5923" is pretty dusty in the year 2023. The German sporting goods manufacturer releases almost no new colourways and there are only a few remaining sizes in stores. But why is that? How did the silhouette once celebrated by sneakerheads and fashion fanatics go down like this? Unfortunately, we don't have the answer to these questions, but we can say that companies like adidas regularly adjust their product range and introduce new models while they can phase out others. The decision to discontinue a certain product can depend on various factors, such as demand, trends in the fashion industry or strategic business decisions. The individual points are explained in more detail below.
adidas Reggiseno Sportivo Aeroreact Light-Support Printed
Many adidas fans and sneakerheads celebrated the Iniki, changed to I-5923, and the sporting goods company capitalised on this popularity. Several colourways were released one after the other and the market was literally flooded with adidas Inikis. Conversely, this means that every fan owns at least one of these modern adidas Boost Runners.
Life cycle
naranjas hyped silhouettes like the adidas Iniki Boost have a product life cycle that naranjastually ends. The adidas Iniki reached its peak with the introduction of more hip models and collabs. There wasn't much room left to go upwards and so the curve slowly flattened and naranjas declined. For a multi-million dollar company like adidas, it might have been a financial mistake to try to save a silhouette that was less in demand. But it wasn't that bad, because the discontinuation of production made room for new products and entire lines. So the global brand with the three stripes focused on other modern sneakers, such as futuristic sneakers with printed soles.
Strategic decisions
The last reason also leads to the point of "strategic decisions", which is why the Boost-laden adidas Iniki may no longer be produced. adidas focuses on other hip models that are on trend, thus saving resources and optimising other product lines.

But just because Inikis are no longer being produced doesn't mean the silhouette has disappeared from the scene forever. After all, haven't we already seen many revivals of other retro sneakers?
Read more